All people have physical qualities that make them unique, and for some, these might include a port wine stain. However, these raspberry-colored birthmarks can be difficult to cover up and might be a source of self-consciousness depending on their size and location on the body. The good news is that with several laser treatments over a period of time, it is possible to significantly fade this type of birthmark. Continue reading to learn how to treat a port wine stain.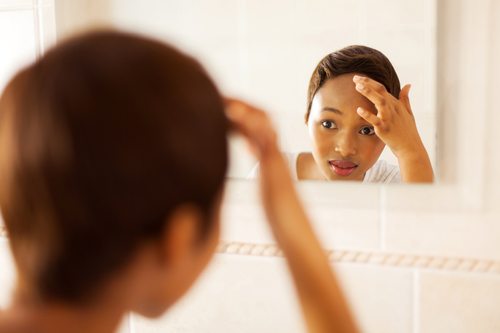 How to Treat a Port Wine Stain
The Treatment Process
Since each port wine stain treatment is unique, our medical staff evaluates every case and designs a specialized program to achieve optimal results. Port Wine Stain Treatment involves laser treatments administered over a course of several months. Both our registered nurses and our physicians are trained on how to treat a port wine stain.
What to Expect
The client should have no significant sun exposure for the preceding three weeks before treatment.
Most clients experience some degree of discomfort during treatment, and post-treatment bruising and swelling is normal. The treatment site should return back to normal within one to two weeks. As long as there is no blistering or crusting, make-up and sunscreen may be worn immediately following the procedure. It is important to wear sunscreen and avoid direct sunlight for two months after treatment.
Unfortunately, there is no overnight, miracle fix when it comes to port wine stain treatment. Be prepared to get to know our friendly staff because this process requires multiple office visits. In most cases, a port wine stain will not be reduced entirely. Results can range from a slightly faded mark to a nearly removed stain.
The Earlier the Treatment, the Better
Port wine stains can darken, become raised, and even begin to bleed over time. This is why treating these birthmarks during early childhood is most effective. If your child's port wine stain is a large facial mark, investing in removal is investing in your child's self-confidence. Adults can experience positive results from the treatment as well. However, the decision to remove a birthmark is a personal choice and should be carefully considered beforehand.
_____
Although port wine stains are not preventable, they are treatable. Contact our office with any questions at 417-447-7777 or schedule a free consultation to get started on a treatment course. DermaHealth Laser & Skin Care Clinic a Springfield Med Spa is dedicated to helping you feel comfortable in your own skin. We look forward to hearing from you!