Since the process of getting a tattoo is painful, it makes sense to assume that the process of removing a tattoo will be painful as well. But how painful will it be? How will your skin react to the laser? Will the tattoo disappear completely? Before you head in to your appointment, you might want to know what to expect during tattoo removal. However, the process varies dramatically from person to person in the extreme. To learn more about your specific case and the procedure that will be used, you'll need to make a consultation with a tattoo removal specialist. But if you just want a general idea of what the process might entail, scroll down for some insight.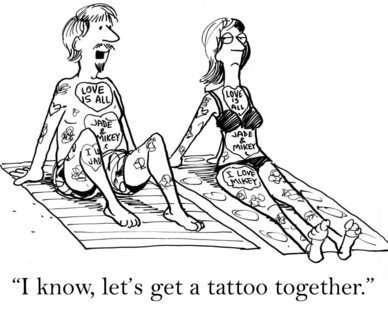 What to Expect During Tattoo Removal
First, you might want to check out our last blog post, in which we detailed how tattoo removal works, focusing on laser procedures and salt/saline solutions. Laser treatment is the more effective solution, because the lasers are able to target the tattoo's pigment and break down the particles. Plus, different lasers are able to target different tattoo colors. Salt/saline solutions are less effective and take more time, but they're also safer.
So what can you expect during and after these treatments?
DISCOMFORT. There will undoubtedly be some discomfort, although the amount of discomfort can range from moderate to severe depending on the person and their tattoo. If you're wondering what a tattoo removal laser feels like, imagine a rubber band snapping against your skin or hot oil splashing onto you (as some clients have described the discomfort). The treated area will remain tender for several days afterward as well. We do use topical anesthetics to assist comfort levels during treatment; however, some people find them more effective than others.
REDNESS & BRUSING. After the procedure, the treated area will appear pink, red, and/or bruised. This is similar to the reaction of skin after a fresh tattoo is applied. To protect the area, you will be asked to cover the treated area with a bandage for 48 hours and apply Medical Barrier Cream on the tattoo for at least one week. The tattoo also may blister, but if this occurs, leave the blisters alone and allow them to heal without help. Finally, you may notice that your skin's color or texture has changed slightly. These changes should fade over time.
A FADED TATTOO. Be realistic about the procedure. When you had the tattoo applied, you expected it to last forever, and while laser and salt/saline treatments are helpful and can fade or lighten the tattoo, they won't always erase it completely. The process isn't as simple as erasing pencil marks from paper. Your body, your tattoo, and your choice of treatment will determine how effective the treatment is in the end, but don't expect your tattoo to disappear overnight.
– – – – –
Ready to get started? If you would like to have a tattoo removed and you live in or near Springfield, MO, contact DermaHealth Laser & Skin Care Clinic. We offer the newest laser technology for tattoo removal, using the dual wavelength laser Enlighten from Cutera to fade tattoos on all skin colors. To learn more about our tattoo removal services, please give us a call at 417-447-7777 or click here to schedule your free consultation.