What is microneedling? You might have heard it called skin needling, collagen induction therapy, or percutaneous collagen induction. If you're still in the dark, then you've been missing out on a revolutionary beauty treatment that can significantly improve the appearance of your skin. Would you like skin that looks fresh, firm, and attractive? Are you self-conscious about scars, stretch marks, or blemishes? It may be time to explore microneedling.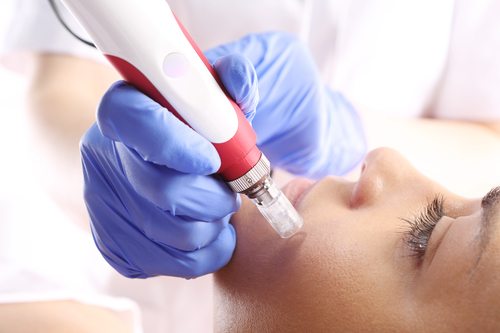 What Is Microneedling?
What is microneedling? As its name suggests, microneedling involves pricking the skin with tiny needles. Creating controlled injuries to the skin with this nonsurgical procedure prompts the body to increase its production of collagen and elastin, rejuvenating the skin. Microneedling is suitable for people of all ages and skin types, so it's no wonder that its popularity is surging.
The Benefits of Microneedling
Does the mere thought of encountering needles make you wince? We encourage you to take a closer look at the procedure regardless. The multitude of benefits offered by microneedling makes overcoming this knee-jerk reaction worth it. When performed properly, microneedling uses the body's own natural healing mechanisms to produce many great benefits. What is microneedling used for? All of the following:
Tighten skin
Soften fine lines and wrinkles
Improve skin texture and tone
Shrink pores
Improve the appearance of scars
Fade brown spots, stretch marks, and other pigment issues
Help healing gels, creams, and serums penetrate more deeply
The Needles
The potential positives of undergoing a microneedling treatment are intriguing, but you're still thinking about the needles, aren't you? Don't worry. The needles used in microneedling aren't like the ones doctors use for vaccinations. Incredibly fine and ranging in length from 0.5 millimeters to 3 millimeters, these tiny needles cause very little discomfort. In addition, a topical numbing cream is generally used to make the procedure more comfortable.
Who Can Benefit From Microneedling?
Although microneedling is enjoying a recent splash of popularity with numerous celebrities documenting their own experiences with the procedure, it has been used for decades to improve skin. Considered both safe and effective when performed by a trained professional, it can be used by people young and old regardless of their skin type or pigmentation. Unless you have an active infection, lesions, or a known issue with wound healing, you can try microneedling.
Where Can Microneedling Be Used?
An incredibly versatile treatment, microneedling can be used on virtually any skin surface. On the face, it can be used to fade acne scars and create a more youthful appearance by smoothing away wrinkles and fine lines, firming the skin, reducing pore size, and improving the skin's tone and texture. It can also be utilized to diminish the stretch marks left behind on the abdomen after a pregnancy or a significant weight loss. Even the arms and knees, areas where skin often sags with age, can be treated with microneedling to produce skin that is firmer and tighter.
How Microneedling Works
Microneedling refreshes and improves the skin by triggering the production of two very important proteins: collagen and elastin. One of the most abundant proteins in the body, collagen is found in the skin, bones, muscles, tendons, and connective tissues. A substance that offers strength and flexibility, collagen forms scaffolding that provides structure and support. Elastin is found in the skin, lungs, intestines, and artery walls. Its dominant characteristic is elasticity. It helps tissues snap back to their natural shape. Both proteins are vital to healthy, vibrant skin, and production of both decreases with age. Microneedling is a way to fight back against this natural decline. The tiny, controlled wounds that the procedure inflicts encourage the body to increase its production of collagen and elastin to heal the damage. With more of these proteins on hand to use as building blocks, the skin is revitalized.
What to Expect
What should you expect during a microneedling treatment? After discussing your aesthetic goals and determining that microneedling is an appropriate treatment, the technician will gently spread a topical numbing cream over the area to be treated. Then, he or she will use a microneedling tool to make multiple passes over the treatment area. While it depends on the size of the treatment area, a session generally lasts between 30 and 45 minutes. For the best results, skin experts generally recommend that you plan to undergo three or four microneedling treatments in intervals of four to six weeks. After these initial treatments, annual or biannual maintenance treatments can help keep your skin looking its best.
After the Treatment
After the procedure, the treated skin will be pink, and some minor bleeding is not unusual, but any lingering redness should disappear in a few days. Because microneedling opens tiny channels in the skin that allow topical gels, creams, and serums to penetrate more deeply, patients are generally sent home with products that will support their skin and speed their healing. In the weeks following the treatment, the skin heals and tightens as additional collagen and elastin flood the area. The result is a fresher, younger, more appealing look.
At DermaHealth Laser & Skin Care Clinic, we use the innovative Eclipse MicroPen to provide exceptional results. The variable pen position and rapid motion allows us to deliver customized microneedling treatments that are more comfortable for our clients. Could microneedling help you reach your aesthetic goals? Schedule a complimentary consultation today to explore the possibilities. We would be happy to further explain the answer to the question, "What is microneedling?"