Sometimes the world will work in your favor and sometimes, unfortunately, it won't. For example, following the discomfort of an injury, you may suffer the disfigurement of a scar, and following that, you might even develop a keloid. Wondering, "What is a keloid?" You're not alone! Keloids are firm, smooth, and hard growths that typically develop as the skin is healing from an injury. Although most people will never experience a keloid, others are very prone to them. In fact, in some people, they can even develop after very minor skin trauma, like a pimple or a mosquito bite!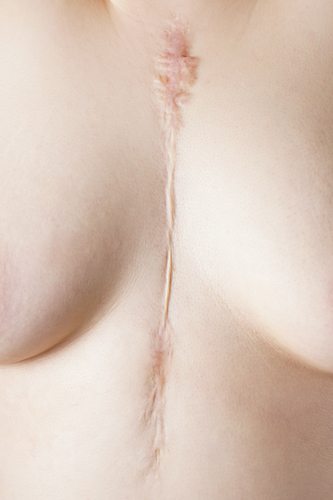 What Is a Keloid?
DEVELOPMENT
Keloids form within scar tissue following an overgrowth of dense fibrous tissue, sometimes immediately following an injury, sometimes months later. The encouraging injury could be severe (surgery, laceration, burns) or minor (ear piercing, scratch, vaccination site, pimple, chickenpox). Keloids are composed of type III or type I collagen and appear somewhat shiny and rubbery. Their color varies, though most are flesh-colored, pink, red, or brown, and the scar's growth can extend beyond the edges of the wound.
PRESENCE
Although keloid scars are not dangerous or contagious, they can be uncomfortable, itchy, and perhaps even painful. They are primarily a cosmetic concern, as opposed to a health concern. However, if the scar is growing uncontrollably, call your dermatologist. To ensure that the growth isn't skin cancer, your doctor may conduct a visual examination and/or a biopsy, checking for cancerous cells.
Once they appear, Keloids should not be expected to suddenly regress. In fact, even after excision, they can recur. Over time keloids can expand across nearby skin with a claw-like structure, and keloids on children tend to grow as the child's body develops. Keloids can appear anywhere on the body, though they're most common on the chest, shoulders, arms, pelvic region, and earlobes.
NOTE: Do not confuse keloids with hypertrophic scars, which are raised and do not extend beyond the wound's boundaries.
LIKELIHOOD
As we mentioned above, most people will not experience a keloid in their lifetime. They are not particularly common, but certain people are very susceptible to them. Overall, keloids form more easily on dark-skinned people as opposed to light-skinned people. Children under 10 are unlikely to develop keloids, but keloid scars are common in people between the ages of 10 and 20. They also seem to have a genetic link, so you're more likely to have a keloid if one or both of your parents has one as well.
TREATMENT
Keloids can be treated using a variety of techniques, including silicone scar patches, vitamin E or K oil (massaged into the area), or surgical removal (though this may result in a new and larger keloid). If you're interested in reducing a keloid and you live in southwest Missouri, please contact DermaHealth Laser & Skin Care Clinic. We can inject the area with a steroid called kenalog, which will reduce the size of the keloid. To get started, please give us a call at 417-447-7777 or schedule a free consultation online. We look forward to hearing from you!