When most people spot a spider, they do at least one of the following: frown, shriek, grab a weapon, call for backup, or jump on the nearest piece of furniture. It's difficult to greet a spider calmly and pleasantly, especially when it shows up somewhere unexpected. However, in many ways, spider veins are even less welcome than actual spiders. Although we don't react to them with the same level of shock and urgency, people with spider veins typically wish to get rid of them. They can embarrass, decrease a person's self-confidence, and even produce aching pain. So what causes spider veins? More importantly: how can you get rid of them?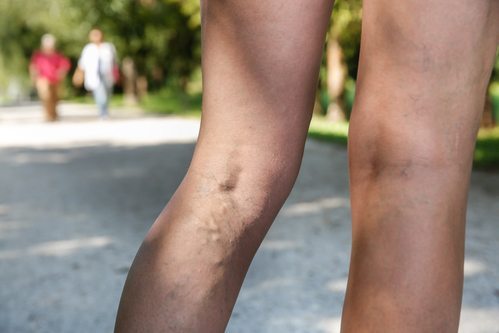 What Causes Spider Veins?
Veins carry blood throughout our bodies, from the organs to the heart. They also store unused blood, because when a body is at rest, only a portion of the blood circulates. This is possible because veins are flexible, and their walls have the ability to expand. Because veins have different functions and locations, they vary in size according to their role within the body. Larger veins are located in the center of the body, near the heart, where they collect blood from smaller veins. Closer to the skin's surface, you can see tiny blood vessels known as "superficial veins."
Telangiectasias are known as spider veins because they resemble webs, with short, fine lines in a cluster shape. Although they can appear in other locations, they are most common in the thighs, ankles, and feet. They most frequently affect women during their childbearing years and older people.
So what causes spider veins? Interestingly and unfortunately, the cause of spider veins is not completely understood. The hormones estrogen and progesterone may play a role, and we know that a hereditary link is involved. So if your parents or grandparents have spider veins, there is a good chance you will have them as well. In addition, people who stand for long periods of time, such as nurses and teachers, are more prone to spider veins because of the increased pressure on the veins in their legs. Finally, spider veins can be a symptom of poor circulation, so exercise is a great way to prevent vein issues and maintain healthy veins.
How Can You Remove Spider Veins?
Although spider veins are not dangerous (omitting rare exceptions), many people dislike the way they look. To prevent spider veins from forming, avoid sitting for long periods of time, exercise to increase your leg circulation, consider wearing compression stockings, and wear sunscreen to prevent spider veins on your cheeks and nose.
To reduce the appearance of spider veins, consider using a non-invasive laser treatment. During the procedure, bursts of light and heat will target the unsightly veins, clot the vessels, and divert the blood to nearby veins. You will see immediate results. The treated veins should disappear over time, though multiple treatments may be needed. Luckily, each treatment only takes about 15-20 minutes and requires no downtime. For best results, schedule the treatment during wintertime because (1) tans and sunburns can negatively impact laser vein treatments, and (2) you will need to wear compression hose after the treatment, which you can hide with pants when the weather is cool.
If you're interested in receiving a laser vein treatment and you live in Springfield, Missouri, contact DermaHealth. Using lasers, we can reduce veins found on the face, legs and other areas of the body without needles or incisions. Plus, no downtime is required! To learn more, please give us a call at 417-447-7777 or click here to schedule a free consultation. We look forward to hearing from you!