Acne is a common skin condition most often associated with teenagers, but the American Academy of Dermatology reports that around 50 million Americans of varying ages suffer from a variety of different types of acne every year. While acne is considered a cosmetic problem rather than a health risk, severe cases can cause you to suffer from psychological and physical problems. For example, acne can provoke anxiety, depression, poor self-image, and permanent scarring.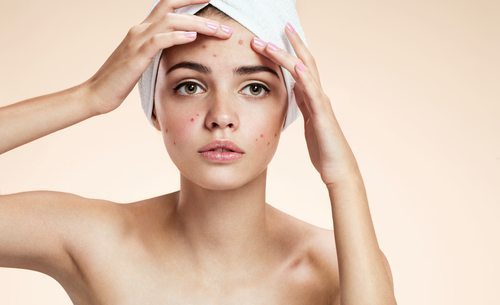 Types of Acne
Cystic Acne
Cystic acne is the most severe form of acne. It can leave your face covered with painful breakouts beneath the surface of the skin that are large, red, and have a boil-like appearance. This type of acne often leads to the most serious scarring if it is not treated quickly and effectively. Cystic acne occurs when the pores in your skin become seriously blocked, which causes an infection deep in your skin that will spread whenever these pus-filled cysts rupture.
Whiteheads
When a combination of bacteria, oil, and dead skin cells form in your pores, they become plugged and closed. This results in the formation of whiteheads, which look like white spots on your skin. This type of acne affects many people and usually shows up on the oiliest areas of your face, including the chin, the nose, and the forehead. Whiteheads can occur at any time, but they often appear when your body is producing more oil, such as during puberty, menstruation, menopause, pregnancy, and when taking birth-control pills.
Blackheads
Perhaps the most common type of acne, blackheads normally develop on the top of the nose and the nasal area beneath. They form as a result of blocked hair follicles within your pores. As the combination of bacteria, dead skin cells, and oil reaches the surface, it reacts to the oxygen in the air to give the appearance of a black lump. It's not uncommon for dozens of blackheads to appear at once and completely cover the surface of the nose.
Pustules
More often referred to as the common pimple, a pustule is a pus-filled bump that appears as a white spot with a yellowish center. It is usually surrounded by red skin. Pustules can become quite large, and they usually form due to an imbalance of hormones or hormonal changes in the body. This makes them very common among teenagers and young adults. Although you may be tempted to pop these pimples, that can lead to the formation of dark spots or permanent scarring.
Contact DermaHealth for Help
If you need help with any of these types of acne, contact DermaHealth Laser & Skin Care Clinic if you live in southwest Missouri. We offer a variety of treatments for acne, including microdermabrasion, DermaSweep, chemical peels, Blu-U light therapy, SRA laser treatment, and Isōlaz, and we can help you decide which method best fits your troubled skin. Plus, we can also soften or erase your acne scars using CO2RE™, Sublative Rejuvenation™, or Fractora™. Simply give us a call at 417-447-7777 or schedule a free consultation online. We look forward to hearing from you!