Acne is a double whammy. When it first appears, during its active phase, it's unpleasant, embarrassing, and sometimes even painful. And then, after the acne fades, your skin may not be able to hide the evidence. Acne scars can last for months or even years after the provoking acne disappears, reminding you of that unpleasant phase of your life in which your acne ran rampant. Although it's difficult to erase those scars completely, you can soften and fade them with certain products and techniques. To learn how, scroll down for some effective tips for treating acne scars.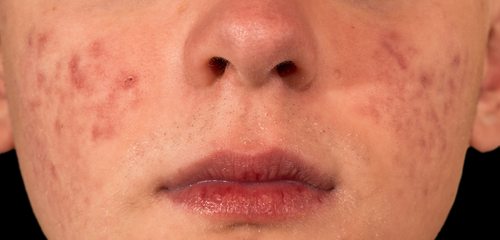 Tips for Treating Acne Scars
At the drugstore, you can find a variety of products aimed at acne scars. Unfortunately, it's difficult to find a topical treatment that's truly effective. You can use a cortisone cream to calm your skin and reduce inflammation, and certain ingredients (kojic acid, arbutin, and vitamin C) are known to lighten dark spots. However, the results will take time and likely be minimal.
For a more effective treatment with stronger results, try speaking with a laser and skin care technician. These are some of your best options:
CO2RE Laser Treatment™
This laser can improve skin that has been damaged by sun exposure, acne spots, fine lines, discoloration, and other skin imperfections such as (you guessed it!) acne scars. Using this system, your skin care technician can resurface your skin in the areas that need a little help. The treatment will require a bit of downtime for recovery, typically two to five days, but luckily only one treatment is needed. Please note that this treatment is not recommended for people with skin types IV-VI.
Sublative Rejuvenation™
Sublative Rejuvention is a unique technique in which radio frequency is pulsed to induce a targeted skin injury. When the collagen regenerates and the skin heals, your scars should be softer and less noticeable. This safe and effective treatment can be used on all skin types, but it will require about three treatments, which should be scheduled about four weeks apart. In addition, your skin will not look lovely and radiant right away; in fact, when you initially leave the office, your skin may appear red and feel a bit rough. However, the downtime will be worth it in the end!
Fractora™ 
Fractora utilizes fractional radio frequency (RF) to target and reduce acne scars. This fractional rejuvenation and resurfacing process uses a matrix of micro-pins to resurface the skin and remodel its deep collagen to improve the appearance of scars. Like the options listed above, it does require a bit of social downtime: typically, three to five days. In addition, like Sublative Rejuvenation, it can be used on a variety of skin types, from I to VI.
_____
If you're eager to eliminate your stubborn acne scars, contact DermaHealth Laser & Skin Care Clinic if you live in southwest Missouri. We can soften or erase your scars using CO2RE™, Sublative Rejuvenation™, or Fractora™. Simply give us a call at 417-447-7777 or schedule a free consultation online. We look forward to hearing from you!