Is your excessive sweating putting a damper on your professional life? Do you buy shirts with future sweat stains in mind? Have you ever avoided shaking someone's hand because of your own sweaty palms? Hyperhidrosis, a condition that causes abnormally increased sweating, can impact your personal life, your social life, and even your career. If you're tired of sweating, check out the tips for controlling hyperhidrosis that we've listed below.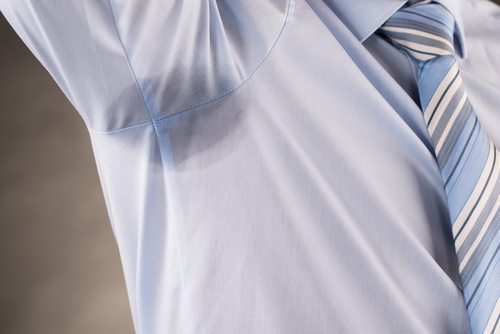 Tips for Controlling Hyperhidrosis
Dress Carefully.
Although it won't reduce your sweating, dressing in layers is highly recommended if you suffer from hyperhidrosis. Light and breathable fabrics like linen will help you stay cool throughout the day, and thin layers will soak up a bit of the sweat without overheating you. Men are advised to wear an undershirt, and women should try a camisole or slip. Keep a wardrobe change handy as well (an extra shirt, for example), so that you can change before important events like business meetings and dates. Finally, choose your colors wisely: prints and colors are better able to camouflage sweat stains.
Look into Botox®. 
Botox? For excessive sweating? Yes, it sounds somewhat crazy, but injecting Botox into problem areas like underarms, hands, and feet has been shown to successfully treat hyperhidrosis. This procedure has even been approved by the U.S. Food and Drug Administration (FDA). Although it may not eliminate your sweat completely, it will significantly reduce the amount of sweat you produce. The effects are temporary and should last around a year. As the medication wears off, the effects will become less and less noticeable.
Use a High-Strength Antiperspirant. 
Look for an antiperspirant with a high concentration of aluminum chloride. You will have to wait about five days for results, and you may experience skin irritation. This is the cheapest and most convenient treatment for hyperhidrosis, so you may want to use it as your first line of defense. In addition, remember to apply your antiperspirant at night so that the active ingredients have time to soak into your sweat ducts. Keep an antiperspirant at work as well, so that you can reapply as needed.
Discuss Anticholinergics and Surgery with Your Doctor.
Anticholinergic prescription medications, taken orally, can treat generalized and focal hyperhidrosis. Although some anticholinergic drugs show promise, they also come with a variety of side effects including dry mouth, constipation, urinary retention, and drowsiness. Sometimes they're recommended for short-term and temporary use—for example, if you sweat profusely during anxiety-inducing situations like public speaking.
In addition, you could ask your doctor whether surgery suits your situation. This treatment is only recommended for people who suffer from severe hyperhidrosis. There are several different methods available, such as sweat gland removal and sweat gland destruction. However, due to the many side effects involved with these surgeries, we cannot confidently recommend them.
_____
Are you frustrated by your hyperhidrosis? Don't sweat it! If you live in southwest Missouri, contact DermaHealth Laser & Skin Care Clinic. We can help you reduce sweat in your problem areas using Botox® injections. To learn more, please give us a call at 417-447-7777 or contact us online to schedule your free consultation. We look forward to hearing from you!