Unless you have been living under a rock (in which case, you have no reason to worry about the sun!), you know that sunlight can damage your skin in numerous ways. It can cause premature aging, sunspots, fine lines, wrinkles, and even skin cancer. Using a tanning bed isn't any less harmful. In fact, according to the Centers for Disease Control and Prevention (CDC), "Every time you tan you increase your risk of getting skin cancer, including melanoma," (source) which is the most deadly form of skin cancer. Luckily, if you're still lusting after a golden summer glow, you can get it these days without harming your health – or turning your skin orange! Spray tanning allows you to both look and feel great. To ensure that you achieve a lovely, natural glow, use the spray tan tips below for help.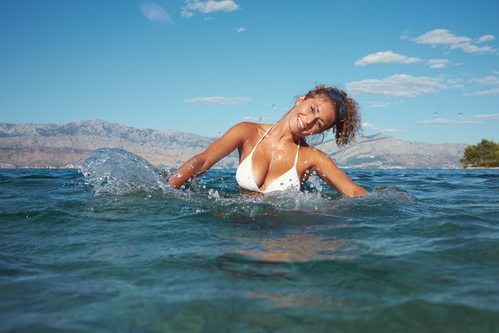 Spray Tan Tips
Before
Shave your legs the night before. If you wax, do so two days prior to your appointment, because the residual wax could block your skin's absorption of the tan.
Shower before you spray tan, and exfoliate thoroughly using a body brush, an exfoliating mitt, or a body scrub. Do not use an oil-based exfoliant.
Rub your skin in a circular motion to get rid of dead skin, paying special attention to your knees, elbows, and ankles. Exfoliation is crucial (and perhaps the most important of our spray tan tips), because it allows the active ingredients in the spray tan product to reach your skin cells.
Keep your skin clean. This means that you should not apply anything after showering, including deodorant, makeup, perfume, tanning products, or even moisturizer.
If you want a spray tan for a special event like a wedding or prom, try to schedule it a few days ahead of the event to be sure that you're happy with the color and have time to get used to it.
After
The first 4-8 hours after spray tanning are critical. Don't bathe or wash your hands. In fact, don't immerse yourself in water at all. And if it's raining outside, bring an umbrella to protect your skin.
Bring loose clothing to wear afterward, as tight clothing can rub off the spray tan product. Dark clothing is recommended, because tanning products can stain light-colored clothes. Also, wear flip-flops if possible so that socks or tight shoes don't rub off the tan.
Refrain from exercising for at least 24 hours, don't go in a sauna, and don't sit outside on a hot day. All of these activities will cause perspiration, which can negatively affect the chemical reaction occurring on your skin.
Shaving or waxing will make your tan fade, so refrain from hair removal as long as you can to maintain the color.
To maintain your tan for as long as possible, don't exfoliate (obviously) and apply moisturizer twice (or even three times) a day to keep your skin hydrated and healthy. You may also wish to avoid chlorinated pools, hot tubs, and tight clothing, as these can increase the rate of skin exfoliation and cause your tan to quickly fade.
After showering, pat your skin dry. Don't vigorously rub with your towel, as this will cause the tan to fade.
Wouldn't you like a healthy, golden glow now that the weather is warming up? If you live in or near Springfield, MO, head to DermaHealth Skin Care Clinic for the perfect solution: Body Bronze tanning products. The unique formulations of these products will give you a lovely bronze color that is beautiful, believable, and not at all orange. Plus, they dry quickly without streaks or greasiness. Use the spray tan tips above for best results. To learn more, please give us a call at 417-447-7777 or click here to schedule your free consultation. We would love to help you achieve a safe and healthy tan this summer.