Permanent makeup is a revelation for some women. After years of carefully pencilling in their eyebrows, running eyeliner above their lashes, and camouflaging old scars with concealer, they're able to sit back and relax. Upon waking, their eyeliner is already perfectly drawn, and at midnight, it's still crisp and not at all smudged. They never again have to waste time drawing individual eyebrows or patting in just the right amount of concealer. It's an amazing convenience. However, it's still important to research the technology involved before you commit to a procedure. Check out the permanent makeup Q&A list that we've compiled below to get started.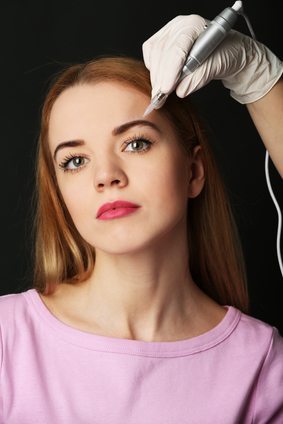 Permanent Makeup Q&A
What options do I have for permanent makeup? There are a variety of procedures available, but some of the most popular include defining or shaping the eyebrows, adding eyeliner to the upper and/or lower lash line, camouflaging a scar, and enhancing the appearance of the areola post-surgery. Other options include lipliner, lip color, and beauty marks.
Is permanent makeup truly permanent? Yes. Although it will fade over time (like all tattoos), permanent makeup is difficult to remove. So if you like to change your style often, we do not recommend permanent makeup. This should not be a spur-of-the-moment decision. Carefully consider the procedure beforehand and try to choose a classic style that you will love forever.
Is permanent makeup painful? Permanent makeup is a tattoo, in essence, so yes, it will hurt a bit. Ask your chosen facility if they offer anesthetics to ease the discomfort during and after the procedure.
Is permanent makeup safe? Yes, permanent makeup is safe. However, to ensure your safety, it is critical that you find a reputable facility with well-trained technicians. Be sure that they make patient safety a top priority and look for quality equipment, sterile needles, and pigments made specifically for permanent cosmetics. During your consultation, quiz the practitioner on their safety procedures and discuss any concerns you have. For more information regarding permanent makeup safety, check out this previous blog post.
What if I don't like the end result? Unfortunately, as we mentioned above, we can not easily remove permanent makeup. Instead of worrying about the end result, make smart decisions up front. First and foremost, communicate with your technician. Express your desires clearly and with great detail, and don't let the procedure move forward if you aren't absolutely certain that the technician understands what you want. In addition, be sure to choose a classic style that you will continue to love as you age.
Will I get to choose the look? Yes, of course. Permanent makeup is available in a variety of colors, styles, and thicknesses. Your technician should work with you to create a look that complements and enhances your natural beauty. However, many technicians will refuse to apply certain styles (for example, a cat-eye flick or eyeliner on the wet line) due to safety and aging concerns.
What are the benefits of permanent makeup? Permanent makeup is very convenient, and it will save you time in the morning. It won't smudge or wipe off, and it can be tailored to fit your goals. Many clients find that they have less stress and worry about permanent cosmetics, as their eyebrows and eyeliner is always perfect. Finally, it can enhance your natural beauty and, in doing so, improve your confidence.
– – – – –
If you're interested in permanent makeup and you live in or near Springfield, Missouri, contact DermaHealth. We offer a variety of permanent makeup services including eyeliner, eyebrows, and scar camouflage. To learn more about your options, give us a call at 417-447-7777 or click here to schedule a free consultation. We look forward to hearing from you!