Do you sometimes resemble Jack Sparrow at the end of the day because your eyeliner has smeared? Are you tired of constantly covering up that old scar with concealer? Have your already pale eyebrows thinned over the years? Thanks to the advent of modern makeup technology, you can solve these cosmetic woes with beautiful and lasting solutions. Using permanent makeup, you can regain the eyebrows of your youth, virtually erase an old scar, or define the shape of your eyes. If you're interested in improving your self-image and you also want to reduce the amount of time you spend in the bathroom each morning, check out the permanent makeup options that we've listed below. From lips to eyes to skin, there are permanent makeup solutions for a variety of cosmetic woes.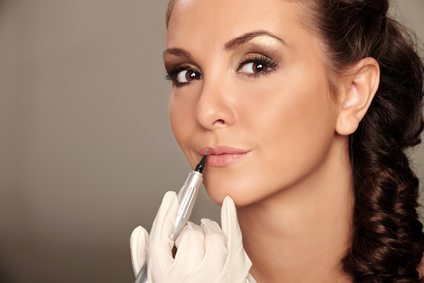 Permanent Makeup Options
EYEBROWS
Eyebrows help frame the face, which is why so many women define, darken, and shape them. If your eyebrows are very sparse, light in color, or partially missing (perhaps due to a scar), you can use permanent makeup to mimic eyebrow hairs. The technicians draw each hair individually to create a natural look, and the brows will be shaped and colored to suit your face shape, facial features, skin tone, hair color, and (of course) your personal desires. You can also choose to have a solid brow, which is more crisp and full, if you don't want each hair drawn individually.
EYELINER
Women typically use eyeliner to enhance their eyes or make their eyelashes seem thicker. You can use a thin line for a natural and subtle change, or you can draw a very thick line to give your eyes a bold new look. Most people choose to use black or brown shades, but you can also use brighter hues like blue, green, and violet. And wonderfully, you can achieve these different line thicknesses and colors with permanent makeup as well. Plus, this lasting "eyeliner" can be applied to both the tops and bottoms of your eyes. However, many companies do have limitations when it comes to coloring the wet line (mucosal) or creating winged eyeliner due to concerns regarding aging and safety.
SCAR CAMOUFLAGE
Whether your scar is old or quite new, it might remind you of an unpleasant memory or mar the way you view your appearance. You can spend time each day hiding it with concealer and foundation, but this takes time and can be tricky. Luckily, to obscure your scar indelibly, you can receive a permanent makeup treatment. However, you must realize that because skin color changes with sun exposure, permanent skin makeup isn't recommended in areas that frequently see the sun. The tattoo, unlike your skin, won't change color over time, after all. Scars after breast augmentations, reductions, and mastectomies are great candidates for this procedure, as are scars that cross through eyebrows.
AREOLA PIGMENTATION
Life after breast cancer can be difficult, and dealing with the changes to your body from treatments and surgeries can be hard. The breast is a very important part of feeling like a 'woman,' and having no areola can hinder a woman's confidence. Adding color to mimic an areola and nipple (if needed), or darkening what is already there can help you feel more comfortable after a mastectomy.
– – – – –
To learn more about the procedures and the results you can expect, discuss your goals with a skincare technician experienced in permanent makeup. And if you're interested in permanent makeup and you live in Springfield, Missouri, contact DermaHealth. We offer a variety of permanent makeup services including eyeliner, eyebrows, and scar camouflage. To learn more about your options, give us a call at 417-447-7777 or click here to schedule a free consultation. We look forward to hearing from you!