Nail fungus, also known as onychomycosis (on-ih-koh-my-koh-sis), is a common condition that affects many people. It typically will present itself as a minor issue for sufferers but progressively can get worse, making many people self-conscious of its appearance. At DermaHealth, we offer nail fungus treatment to rid you of this annoyance.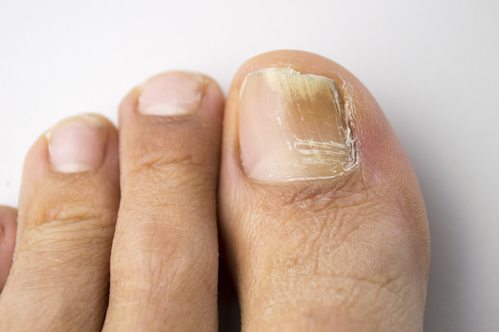 Nail Fungus Treatment
Nail Fungal Infections
Nail fungal infections are typically caused by dermatophyte fungus, yeast, or molds. These particular fungi don't require sunlight to survive. Fungi thrive in warm, moist environments, including swimming pools and showers. Nail fungus can appear on toenails or fingernails; however, it is more prevalent in toe nails, because they are confined to warm, moist environments more often. Also, toenails have less blood supply than fingernails, making it more difficult for our body's immune system to detect and fight off their fungal infections.
What Do Nail Fungal Infections Look Like?
Nail fungal infections typically appear as a white or yellow spot under the tip of your fingernail or toenail. As the infection progresses, it moves deeper into the nail, making it appear discolored or thickened, and it may begin to crumble at the edges. If left untreated, the condition may cause the nail to separate from the nail bed. You may notice dullness or lack of shine in your affected nail(s) and potentially smell a foul odor from debris collecting under the nail(s). The infection usually will begin in one nail, but can spread to other nails if untreated.
Nail Fungus Treatment
DermaHealth offers conjunctive therapy for clients suffering from stubborn nail fungal infections. In conjunction with anti-fungal topical nail treatment, DermaHealth uses laser treatment to destroy the fungal infection once and for all.
Once a client expresses interest in receiving our nail fungus treatment, they begin a two-week, pre-treatment regimen of daily application of topical anti-fungal oil. After two weeks, they will provide consent to receive our Genesis laser nail fungus treatment. The laser treatment targets the affected nail(s) and surrounding tissue with heat in an effort to kill the fungal infection.
How Many Laser Treatments Do I Need?
DermaHealth recommends that clients interested in our conjunctive nail fungus treatment receive between two and five treatments, depending on the results they obtain after each session. With the client's consent, we will obtain pictures to map the progress of the treatment regimen.
Especially when discussing toenails, we express to clients that the nails grow very slowly, and it may take up to a year for a healthy, uninfected nail to grow out. Once the client is happy with their results, they will no longer require laser treatments. However, there are several measures that the client can take to decrease the chance of the fungal infection returning in the future.
How Do I Keep the Nail Fungal Infection Away?
After receiving laser nail fungus treatment, it is important that clients conform to our post-care instructions, so that they may achieve optimal results both during and after treatment.
We recommend that clients continue to apply the anti-fungal topical oil to the affected nail(s) between laser treatments. Other recommendations for increased efficacy of laser nail fungus treatment include application of over-the-counter anti-fungal creams to the affected areas, disinfecting shoes (and not wearing them for 48 hours after treatment), and keeping the nail(s) clean and well trimmed. When possible, wear shoes that decrease humidity, and choose socks that absorb sweat. Maintaining a diet that is low in carbs and sugar is also recommended for decreasing the fungi population within the body.
Contact DermaHealth for Help
If you are suffering from stubborn nail fungal infections, give our professionals a call at DermaHealth to see if you are a candidate for nail fungus treatment. Our consultations are free, so it will not cost you anything to see if we can help. To speak to our professionals about nail fungus treatment or any other services that may be of interest to you, call DermaHealth at 417-447-7777.