YOU are beautiful! Self-confidence is something that resides within. Having self-confidence is one of the single most important qualities one can possess. When you feel good on the inside, it will shine on the outside. Having confidence in yourself can boost morale and productivity as well as open doors and maximize opportunities for you to achieve greatness. Don't let acne stop you from achieving your full potential!
DermaHealth is here to help you resolve and treat stubborn acne. Have you tried various creams, oral medications, or cleansers that may or may not keep your acne at bay, but doesn't seem get rid of it all together? Well then you must keep reading, because Dermahealth may offer a treatment option that is just right for you!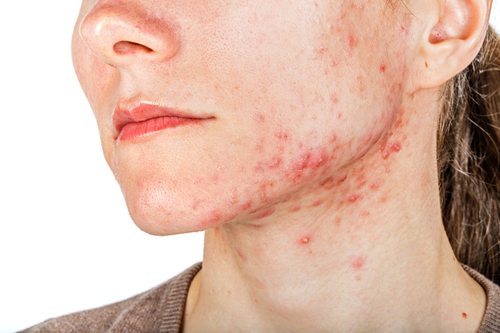 Light Therapy for Acne Treatment
Stubborn Acne
Acne shows no prejudice and can affect people of all ages, from teens to older adults. From puberty to maturity, acne can be a result of fluctuating hormones in men and women. Acne can also be a result of stress. As the body increases the production of hormones in response to stress, it can stimulate your skin to produce increased levels of sebum, an oily substance that can cause acne. There are varying types of acne that are bothersome for sufferers and may decrease their self-confidence, as they may be self-conscious of their outward appearance.
How Can We Help You?
DermaHealth may have just the right treatment for you! Light therapy treatment may help to relieve you of your stubborn acne once and for all. RED light therapy treats the dermal layer of the skin to reduce inflammation that can occur with acne. BLUE light therapy targets the epidermis of the skin to kill and destroy the bacteria that resides on the skin and within the pores to cause acne. Having one or both of these treatments may help to resolve your acne struggles! These treatments are gentle enough for all skin types and tones. It may take multiple treatments depending on the degree and severity of your acne, but with a little patience and persistence, your acne suffering days may come to an end!
It does not cost a thing to come meet our staff and see if we can help you! All of our FREE consultations are performed by our knowledgeable, professional staff. Stop by or call to schedule to meet with us whenever you are ready to see what DermaHealth has to offer you! Call anytime at 417-447-7777. We can't wait to meet you and have you become part of the DermaHealth family!