Very few adult women are completely satisfied with the amount of hair on their body. We wax our legs, pluck our eyebrows, bleach our facial hair, and shave our armpits, though the methods and areas of concern vary from woman to woman. And unfortunately, the hair never stops growing, which means the process never ends. So if you want permanent hair reduction, you'll need to look into a professional procedure like laser hair removal. Interested in learning more? Scroll down to check out our laser hair removal FAQ.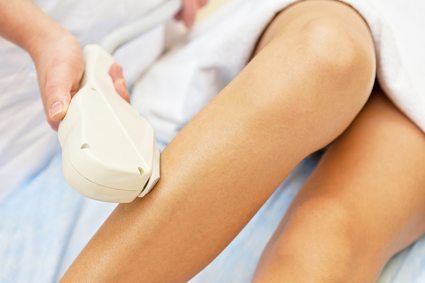 Laser Hair Removal FAQ
How effective is laser hair removal? Although results vary, you can typically expect 80-85% hair reduction in the treated area. The hair that remains should be finer and lighter as well.
How long does it take? Unfortunately, the process will not be complete in just one session. Because hair growth occurs in three stages and the laser will only target hairs in the growing stage (known as the anagen stage), you will probably end up needing 3-6 treatments. These treatments are spaced 4-12 weeks apart.
Where can I have hair removed? The treatment can be used on a variety of different areas, just about anywhere you have unwanted hair. The most popular areas for women are facial hair and the bikini line, and the most popular area for men is the back.
Will it hurt? Pain tolerance differs from person to person. The discomfort you may experience during the treatment is similar to the pain you would feel if a rubber band were snapped against your skin: sharp, but quick. To lessen the discomfort, a numbing cream can be applied to the skin.
How much does it cost? Of course, different providers will offer different prices. Focus on finding a professional, inviting, reputable company, not one that offers a cheap deal. The price will depend on the size of the treatment area and the density of the hair within that area. Many companies offer packages that ensure a certain number of treatments over a specified period of time, while others charge per treatment.
Does laser hair removal work on all hair and skin colors? Yes, however, your hair color and skin color may affect your results. Because the laser targets hair based on the color discrepancy between the hair color and the skin color, people with light skin and dark hair tend to have the most successful laser hair treatments. Luckily, there are a wide variety of lasers that can target different hair colors. For example, the DSL laser can effectively treat light brown, red, and dark blond hair.
How does laser hair removal work? The laser uses color discrepancy to target unwanted hair. Using a specific wavelength of light and pulse duration, it targets the melanin (i.e., the pigment) in the area while avoiding the skin. The hair follicle is heated and damaged, which will hinder future growth. To learn more about this process, please check out this previous blog post.
– – – – –
If you're interested in receiving laser hair removal and you live in Springfield, Missouri, contact DermaHealth. We own four different lasers (the GentleMaxPro, the Lumecca, the excel V Yag, and the DSL), which help us target large areas of hair, hair in sensitive areas, and even lighter hair colors like red, dark blond, and light brown. To learn more, please give us a call at 417-447-7777 or click here to schedule a free consultation. We look forward to hearing from you!