Even if permanent makeup is beautiful and convenient and time-saving and affordable, none of these benefits matter without one important element: safety. Is permanent makeup safe? That should be your first question if you're considering undergoing a permanent makeup procedure. Whether you would like to define your eyebrows, camouflage a scar, enhance your eyes with eyeliner, or improve the appearance of your areola after breast surgery, the safety of the procedure should be your primary concern.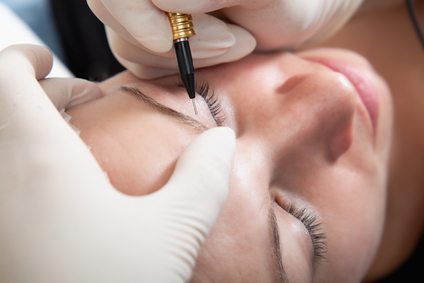 Is Permanent Makeup Safe?
Yes, permanent makeup is safe. The procedure is very similar to the process of applying a tattoo. However, it is crucial that you find a respected, reputable facility that employs well-trained technicians. Look for a facility that takes safety seriously and treats permanent makeup as a medical procedure. They must have very high quality standards when it comes to their equipment, their hygiene, and the products they use. Sterile needles and pigments from a trusted source (and that are only made for permanent cosmetics) should be used.
Before you sign up for any permanent makeup procedure, schedule a consultation so that you can discuss your goals and concerns with the practitioner and quiz them on their safety procedures. Ask to have your consultation with the same practitioner who will be applying your permanent makeup as well, so that you can ensure that the details discussed during the consultation will mirror the actual procedure.
Before you schedule your appointment, scrutinize the facility, interview the employees, and check for the following safety precautions:
Be sure that a trained professional will be performing the procedure.
Choose a reputable facility known for its high standards.
Ask if the technician will use pigments that are only made for permanent cosmetics.
Ask if the pigments are made specifically for cosmetic procedures on the face.
Discuss whether the pigments used pose a high allergy risk.
Ask the technician to conduct a test patch several weeks before the procedure.
Discuss how and when the equipment and needles are sterilized.
Make sure the facility has a business license.
Look for a certificate from the local board of health that says the facility has been inspected.
Ask the practitioner about their level of experience.
Ask the practitioner how many permanent tattoo procedures they have performed.
If possible, ask for references who you can meet in person.
During the procedure, be sure that the practitioner uses a fresh needle and fresh pigment.
If the facility or the practitioner doesn't meet these safety standards, walk away. If you choose to undergo the procedure regardless, you're putting yourself at risk for a dangerous infection or allergic reaction.
Finally, due to safety concerns, we do not recommend that you have your wet line (the mucosal area) tattooed at all.
– – – – –
Safety first! You can never be too careful when it comes to your health. Use the tips above to ensure that your permanent makeup procedure is sterile, safe, and stress-free.
Are you interested in receiving a permanent makeup procedure? If you live in Springfield, Missouri, contact DermaHealth. We offer a variety of permanent makeup services including eyeliner, eyebrows, and scar camouflage. To learn more about your options, give us a call at 417-447-7777 or click here to schedule a free consultation. We look forward to hearing from you!