Pore size is a concern for many people. Genetics, sun exposure, aging, and how prone you are to blemishes all determine the size of a person's pores. If you're dissatisfied with large pores, there are ways to minimize them—you just need to know how to shrink your pores! Smaller pores will give your face a smoother look and rejuvenate your complexion. Learn how you can get started here!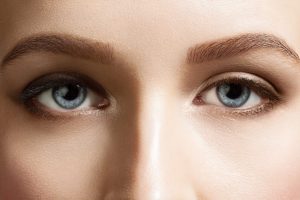 How to Shrink Your Pores
At home . . .
Problems with pore size? Lucky for you, learning how to shrink your pores starts right in your own bathroom.
Keep your face clean. Oil and dirt clogging your pores can make them appear larger, so you'll want to keep your face as clean as possible. Wash in the morning and evening (especially if you wear makeup) with an oil-free cleanser. You'll also want to make sure you wash before you go to the gym to remove any makeup, as well as post-workout to get rid of pore-clogging sweat.
Exfoliate often. Exfoliating will help clear out your pores more than a basic face wash, so this product is essential for minimizing pores. You can exfoliate daily if you're using a gentle scrub, but limit yourself to 2-3 times per week if you're using a harsher product. Too much exfoliation can leave your skin looking and feeling raw.
Wear sunscreen. Of course, this isn't the only reason to apply sunscreen daily, but it will help your pores appear smaller. Exposure to the sun slowly weakens the collagen supporting your pores, making them look bigger over time. Wearing sunscreen—at least SPF 15—will slow this process significantly.
Take care of blemishes. Acne can enlarge your pores. If you have a problem with blemishes, use skincare products that address this problem, and don't pick at zits! This can make your pores appear bigger.
At your aesthetic office . . .
Another option for shrinking your pores is seeing your skin care provider. While at-home methods aren't ineffective, products and procedures prescribed by your doctor are more powerful, working better and more quickly than those you use at home. Your provider might suggest one of these methods:
Microdermabrasion or DermaSweep. These two methods exfoliate your skin more effectively than store-bought scrubs.
Laser skin therapy. Laser therapy will help tighten the collagen in your face, making for tighter pores.
Chemical peels. Chemical peels, too, help tighten your pores, and they have many other benefits: reducing lines, lightening hyperpigmentation, and helping boost the appearance of sun-damaged skin.
Everyone's skin is different. Your skin expert will help you select the best method for your individual skin.
____
Now that you know how to shrink your pores, are you ready to take the next step towards a smoother looking face? If you live in southwest Missouri and are looking for faster, more effective methods than what you can achieve at home, contact DermaHealth. We offer microdermabrasion and DermaSweep exfoliation methods, as well as a Jessner chemical peel and laser therapy. Plus, we can help you address any other skin concerns you have. Give us a call at 417-447-7777 or contact us online to schedule a free consultation!