The first day of summer is right around the corner (June 21, to be exact), and most people are embracing the longer days, warmer weather, and brighter sun. However, I hope you're also embracing sunscreen, which is crucial in protecting your skin from harmful UVB and UVA rays that can cause uneven skin tone, sun spots, wrinkles, and even skin cancer. Even if you currently lather on sunscreen on sunny days, your skin may show the harmful aftereffects of past days spent unprotected in the sun. To help you erase those unattractive symptoms and marks, today we're discussing how to remove sun damage from your skin.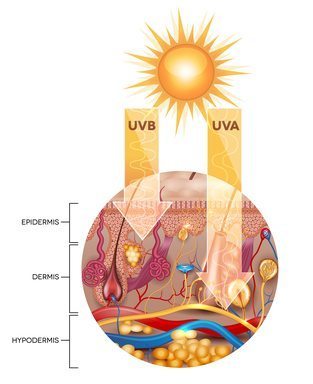 How to Remove Sun Damage
LASERS
Laser treatments can effectively reduce sun damage including sun spots and uneven skin tone. Sublative Rejuvenation treats fine lines and wrinkles caused by extended exposure to the sun. It's a comfortable procedure that requires no downtime. Fotofacial or SRA treatments will reduce your freckles, sun spots, and irregular pigmentation. We find that patients with sun damage on their arms, chest, neck, or legs respond well to these treatments. CO2RE is also beneficial for sun-damaged skin. It requires 2-4 days of social downtime, but results will appear after just one treatment. Finally, GentleMaxPro is an extremely versatile laser that can remove sun spots as well as unwanted hair. It utilizes a DCD (Dynamic Cooling Device) for extra comfort.
CHEMICAL PEELS
Chemical peels exfoliate the skin, removing dead skin cells and giving your skin a healthy glow. You can use a chemical peel to reduce the appearance of sun damage, including sun spots, fine lines, and uneven skin tone. A series of chemical peels is recommended for best results, and the type of peel will be based on your skin's texture, color, and sensitivity. Chemical peels can be applied to the face, chest, back, or other areas of concern.
SKIN CARE PRODUCTS
Looking for a product you can use at home? You might be interested in an exfoliating, lightening, and brightening skin care product. Elure is an effective, scientifically-backed skin lightening treatment that reduces melanin to lighten your skin. It can reduce dark spots and provide a lovely glow. MelanoLyte Tx is another powerful brightening treatment. It will reduce unwanted discoloration and may be used in combination with our next skin care product: MelanoLyte PRO. This last product will boost the strength of MelanoLyte Tx. With all of these products, it is important that you apply them as directed for best results.
– – – – –
In addition, to prevent future sun damage, we recommend that you use sunscreen with an SPF of at least 30, reapply your sunscreen every two hours, cover up your skin with a hat and clothing when outdoors, and avoid the sun when it is at its most intense (typically between 10 a.m. and 3 p.m.).
Although we urge you to care for your skin year-round (and with extra caution in the summertime), we also know that you can't change the past. If your skin shows symptoms of sun damage, consider using one of the treatments above to quickly and comfortably erase your skin's flaws. To learn more about how lasers, chemical peels, and skin care products can help you reduce your skin's sun damage, please contact DermaHealth today. Give us a call at 417-447-7777 or schedule your free consultation online. We look forward to hearing from you!