Also known as an acrochordon or a cutaneous tag, a skin tag is a overgrowth of skin that typically forms in places that the skin creases and has friction. Although harmless, benign, and typically painless, skin tags can be aesthetically frustrating. They aren't present at birth but develop over time, and in fact, more than one-quarter of adults have skin tags. Luckily for those of you wondering how to remove skin tags, the process is actually quick and simple. In just a few minutes you could be free of skin tags that have plagued you for years.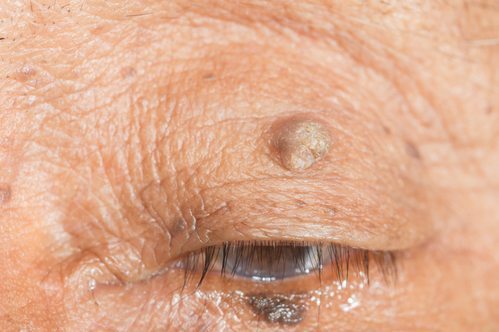 What Are Skin Tags?
If you have skin tags, you're not alone! One in four people develop a skin tag at some point in their life. These small pouches of skin seem to hang from the underlying skin, and they sometimes look like little bumps or flaps. Typically connected by a thin stalk, skin tags form in areas where skin touches other skin or rubs against clothing. For example, you may develop skin tags on your underarms, neck, eyelids, upper chest, or groin.
Skin tags are usually the same color as the rest of your skin, but sometimes brownish skin tags develop on pale-skinned people. In addition, some skin tags become red or black if they are twisted on their blood supply. Their texture varies (some wrinkled, some smooth), and their size ranges from extremely tiny (about 1 mm) to slightly larger (about 1 cm, the size of a grape). In rare cases, a skin tag will grow as large as a fig (about 5 cm).
As we mentioned above, people are not born with skin tags. They develop during our lives, and increase in frequency with age. They run in families as well, so you may have a genetic predisposition to their development if your family members have many skin tags. Obese people tend to have more skin tags as well, because their skin is more likely to rub against itself. Finally, pregnant women sometimes develop skin tags, possibly due to hormone elevations.
Although skin tags are typically painless and almost always benign (reports of cancerous skin tags are extremely rare), they can become irritated and bleed if caught on clothing, a zipper, a purse strap, or something similar. Some people are tempted to pick at their skin tags, and others simply dislike the way they look. If you are bothered by a skin tag, don't hesitate to have it removed. The process is quick and easy.
How to Remove Skin Tags
Although you'll find a smorgasbord of DIY skin tag removal techniques on the Internet (for example, tying thread around the base of the skin tag), these processes have not been proven successful and can be dangerous. To ensure that the skin doesn't scar or become infected, consult a professional if you're wondering how to remove skin tags. It is important to note, however, that some people are prone to the development of skin tags and may find that their skin tags reoccur after removal.
To remove the acrochordon, a doctor will cut the skin tag off with surgical scissors or electrocautery ellman. The treatment is simple, and the healing process is conveniently quick. A local anesthetic may be used for your comfort, and you can go back to your regular activities immediately. It's as easy as that!
Do you have a skin tag you wish to remove? If you live in southwest Missouri, contact DermaHealth Laser & Skin Care Clinic today. Give us a call at 417-447-7777 or contact us online for more information. We would be happy to help you remove that pesky skin tag.