As children, our skin is new, fresh, and vibrant. Not yet marred by time, gravity, sunlight, acne, or hormones, the tone remains even and bright. However, as the years pass, our skin can become blotchy, spotty, and uneven. Hormones are often to blame, but sunlight is another likely culprit if you often neglect or ignore sunscreen. Splotchy skin can also result from acne scars, especially if you like to pick at your blemishes. Luckily, you can address these skin care concerns with a variety of treatments and products. Scroll down to learn how to reduce uneven skin tone.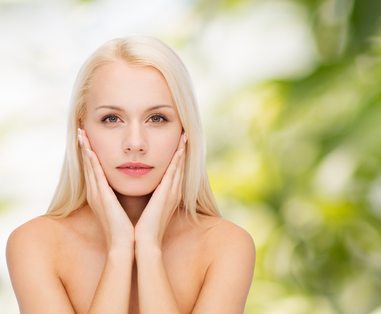 How to Reduce Uneven Skin Tone
LASER TREATMENTS
Laser treatments target specific spots on the skin with a beam of light, destroying that area's darker pigment. There are a variety of lasers used in skin care clinics these days, but not all of them will work well on your skin. Look for a clinic that offers multiple devices, so that your consultant can choose a laser that will address your problem without damaging your skin. To target uneven skin tone, we use Sublative Rejuvenation™, Fotofacial or SRA, CO2RE™, and GentleMaxPro at DermaHealth. At your consultation, the technician will assess your skin type, ask about your concerns, and recommend a specific laser from there. To learn more about our laser treatments, please click here.
CHEMICAL PEELS
A chemical peel exfoliates the epidermis of the skin, removing dead skin and allowing new skin to take its place. Over time, regular chemical peels can reduce the appearance of sun damage and help age spots disappear. After a peel, your skin's tone and texture should improve, giving your skin a younger and brighter look. Your skincare consultant will select the type of peel based on your skin type and your concerns. Chemical peels are available for all skin types, but it's crucial that you find a peel that works well with your skin's color and texture to prevent damage.
PRODUCTS
If you would rather start with topical products and cosmetic concealers that you can apply at home, you'll be happy to know that there are a number of effective creams, gels, and serums available. All can be applied on their own, but some can also be combined with other skin care services for a multi-faceted approach to treatment. You might be interested in:
Elure (an enzymatic skin lightening treatment)
MelanoLyte Tx (a powerful treatment that corrects irregular pigmentation)
MelanoLyte PRO Mask (a professional-strength mask that reduces uneven tone)
 – – – – –
Would you like to reduce your skin's uneven tone and improve its texture? If you live in or near Springfield, Missouri, contact DermaHealth. We offer a variety of skin care treatments that can reduce uneven skin tone, including laser treatments, chemical peels, and powerful products. Our consultants can help you decide which services and products will work best for your concerns. To learn more, please give us a call at 417-447-7777 or click here to schedule a free consultation. We look forward to hearing from you!