A rose in full bloom is a glorious sight that's full of vibrancy, but as the flower fades, its petals shrink and curl. A similar progression occurs to the human face. Youthful faces have firm, elastic skin covering a fresh mix of full curves and strong angles. Then, the aging process slowly steals suppleness from the skin and volume from the facial features, resulting in a countenance that appears visibly older. If you're unhappy with the sight you see in the mirror and eager to learn how to plump up your face for a more youthful look, then it's worth considering the possibilities offered by injectable fillers.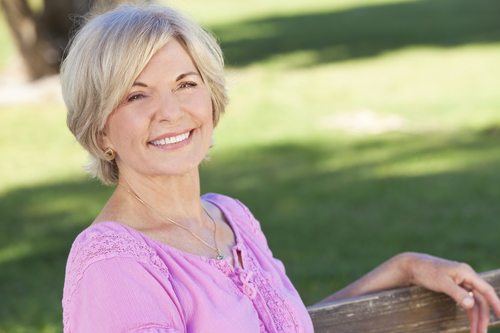 Thinner Isn't Always Better
Despite the countless articles promoting various diets and exercises, when it comes to your appearance, thinner isn't always better. In fact, thinning of your facial features makes you look older. That's because changes that occur as people age tend to reduce facial volume. For example, collagen is found in a wide range of tissues where it forms a natural framework that offers strength and structural support. As collagen production declines with age, the effects are visible. With less collagen, the skin thins, gets drier, and loses elasticity. Facial bone is also lost, compromising the skin's structural support. Fat loss and redistribution contribute to the problem as well.
How to Plump Up Your Face
While some volume loss may be an inevitable part of aging, you don't have to accept it. Injectables include dermal fillers, which can instantly restore lost volume, and collagen stimulators, which can prompt the body to produce more collagen, generating youthful volume naturally. Some injectables even combine both strategies to provide quick and long-lasting results. Which product or combination of products is right for you? That answer depends on your personal aesthetic goals.
A synthetic calcium filler, Radiesse treats wrinkles with a one-two punch. The product produces results immediately, but these effects get better as time passes and Radiesse prompts the body to produce more collagen. Injected deep beneath the skin, it is intended to treat moderate to severe wrinkles and folds, and it can produce results that last for a year or more.
Juvéderm offers a collection of hyaluronic acid fillers that can be used to target specific trouble spots. Juvéderm Voluma XC is an injectable gel that is perfect for plumping up the cheeks. Juvéderm XC and Juvéderm Vollure XC are gels that can be injected to smooth away moderate to severe wrinkles and folds. Meanwhile, Juvéderm Volbella XC and Juvéderm Ulta XC are injectable gels that can refresh the lips by adding volume and smoothing away vertical lines. Depending on the filler and how it's used, results can last anywhere from six months to two years.
Another family of hyaluronic acid fillers, Restylane Lyft, Restylane Defyne, Restylane Refyne, and Restylane Silk erase facial wrinkles and folds by restoring fullness to the face. These injectable gels are often used to correct volume loss in the cheeks and midface area. Results vary depending on which filler is used and how it is injected, but they typically last from six months to a year.
Composed of a synthetic material that is biocompatible and biodegradable, Sculptra Aesthetic is a poly-L-lactic collagen stimulator that restores volume by triggering the body to increase its production of collagen. Sculptra Aesthetic is injected deep beneath the muscle and creates visible results that can last for two years or more.
_____
Could injectables be your ticket to a more youthful appearance? Contact DermaHealth Laser & Skin Care Clinic for a complimentary consultation today. Our knowledgeable skin care technicians can help you explore your options, so that you can learn how to plump up your face and achieve beautiful, natural results.