Who doesn't want softer, smoother, and more radiant skin? There are a variety of ways to accomplish this skincare goal, but microdermabrasion is one of the best. It's safe, effective, and very quick. After a brief 30-minute treatment, most patients already notice an improvement in the texture of their skin. The process isn't painful, it doesn't require a lengthy recovery time, and it can be performed on a variety of areas including the face, neck, chest, arms, elbows, and knees. So how does microdermabrasion work? Scroll down to learn more about this effective exfoliating technique . . .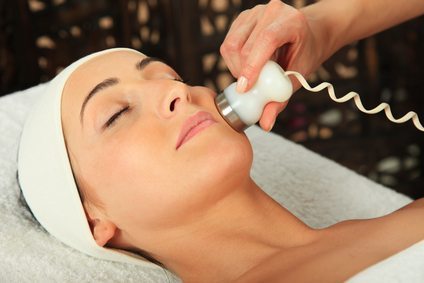 How Does Microdermabrasion Work?
THR PROCESS
Microdermabrasion is sometimes called an "instant facelift" or a "lunchtime peel" because it can improve the appearance and texture of your skin in less than an hour. The key is exfoliation.
During the microdermabrasion process, a skincare technician will use a specialized tool to buff away the outer layer of your skin. This layer of skin (the stratum corneum) is covered in dead skin cells, which are polished away, as well as minute' imperfections like fine lines and blemishes. After the microdermabrasion tool cleans the top layer of skin, the body interprets this as a minor injury and rushes to replenish the skin. New and healthy skin cells replace the dull, aged skin cells that were removed.
The microdermabrasion tool also includes a vacuum, which has several functions: it lifts the section of skin being treated, it pulls impurities to the surface of the skin, and it collects the dead skin cells. The combination of the varying coarseness of the wand and the vacuum is what makes microdermabrasion so effective.
THE BENEFITS
Microdermabrasion is typically used for a very simple reason: to make skin appear more radiant, bright, and beautiful. However, it can also be used to treat specific problems like sun damage, hyper-pigmentation, keratoses, uneven skin tone, acne, acne scars, enlarged pores, age spots, fine lines, and wrinkles. If you have a specific skincare concern, be sure to discuss it with your technician during the consultation as it may affect the procedure.
THE PROCEDURE
A microdermabrasion procedure typically only takes 30 minutes or so, but it's important to note that your skin will likely be reddened and swollen afterward (it will also immediately feel smooth and soft). Because of this, you should avoid scheduling your treatment before an important occasion, especially if it's your first time receiving microdermabrasion and you aren't sure how your skin will react. Also, be sure to apply a very moisturizing cream afterward, as your skin will be very dry and deprived of moisture.
The procedure can be repeated every two weeks, but the frequency should depend on your skin's type and condition. Your skincare technician will have more specific instructions and tips.
– – – – –
If you're interested in using a non-surgical, non-chemical, and non-invasive treatment to improve the appearance and health of your skin, microdermabrasion might be the prefect solution. It's safe, it's effective, and it doesn't require any downtime. Interested? If you live in or around Springfield, Missouri, contact DermaHealth. In just 30 minutes, we can exfoliate your skin with microdermabrasion, revealing smoother, healthier, and younger-looking skin. To learn more, please give us a call at 417-447-7777 or click here to schedule a free consultation. We look forward to hearing from you!