Most children can only clearly see their veins in particular spots—the inner wrist, the inner elbow, the foot—which makes them somewhat mysterious. Unfortunately, our veins tend to become more prominent (and less elusive) as we age. Skin translucency, body fat, exercise, pregnancy, blood circulation, weight loss, and medications can all affect the visibility of your veins. Luckily, using laser vein reduction, you can erase the appearance of spider veins. So how does laser vein treatment work? Let's find out . . .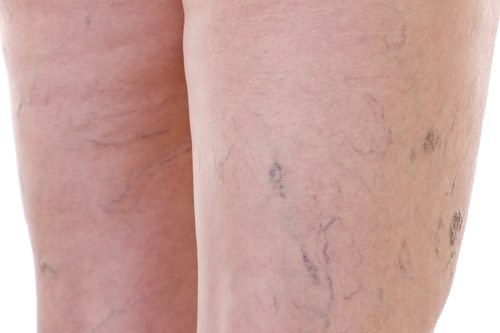 How Does Laser Vein Treatment Work?
Using a revolutionary laser treatment, we are able to reduce the appearance of both red and blue veins found in many places on the body, including the face and legs. The process doesn't require incisions, and all skin types can be treated safely. How, you ask?
Well, using a non-invasive laser, strong bursts of light and heat are focused on the problem area. The heat damages the vein, clotting off the vessel, diverting the blood flow to other veins nearby. The treated vein, no longer able to access its source of blood, will disappear over time (sometimes multiple treatments are needed). The treatments last for about 15-20 minutes, making this a quick, in-and-out procedure. Afterward, you can immediately go back to work and resume your normal activities (though strenuous exercise is discouraged).
Things to Note
YOU MAY NEED FUTURE TREATMENTS. First, know that most veins require multiple treatments. This varies based on the vein's size and type, however. Treatment sessions are scheduled 6-8 weeks apart. In addition, you may need future treatments as your veins change and develop over time.
YOU WILL GET IMMEDIATE RESULTS. Although additional treatments will likely be needed if you want to achieve the maximum benefits, there will be a noticeable reduction in appearance after just one treatment session.
HOSE ARE REQUIRED. If your legs are treated, you should wear compression hose for 3-5 days for optimum results. In addition, you will be asked to avoid vigorous activity. Luckily, you can easily hide the hose with pants since vein treatments should be performed in winter. Speaking of which . . .
PLAN FOR A WINTER TREATMENT. Ideally, vein treatments should be performed in the wintertime, because sunburns and tans can negatively impact the results of laser vein reduction. You will also need to avoid sun exposure to the treated area!
LASERS ARE NOT ALWAYS EFFECTIVE. Laser vein treatment is unfortunately not effective on all veins, especially very large and prominent ones. To learn whether laser treatment is the right choice for your veins, you will need to consult with a laser and skin care technician.
If you're interested in receiving laser vein treatment and you live in Springfield, Missouri, contact DermaHealth. Using lasers, we can reduce veins found on the face, legs and other areas of the body without needles, or incisions. Plus, no downtime is required! To learn more, please give us a call at 417-447-7777 or click here to schedule a free consultation. We look forward to hearing from you!