After spending countless hours plucking, shaving, dying, and waxing, laser hair removal can be a godsend. It's safe, it's effective, and it can help you reduce unwanted hair. However, the word "laser" doesn't exactly comfort prospective patients. It's especially difficult to trust if you can't comprehend how a laser could reduce hair growth. Understanding a technology is the first step towards embracing it, so let's investigate. How does laser hair removal work? How can a laser reduce the growth of hair? How do lasers target hair follicles without damaging the surrounding skin? Scroll down to find out!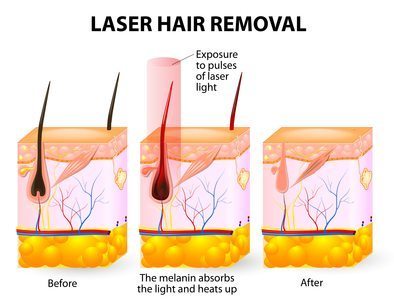 How Does Laser Hair Removal Work?
Targeting the hair's pigment, the laser travels down to the base of the unwanted hair follicle, damaging the follicle so that it will stop producing hair. Using selective photothermolysis (SPTL), the laser uses a specific wavelength of light and pulse duration to target the melanin (i.e., the pigment) in the area without damaging the surrounding tissue (your skin). The hair follicle heats up and becomes damaged, hindering future hair growth. Because the laser relies on color discrepancy to accurately target the hair follicle, darker hair colors (black, brown) are easier to treat than lighter hair colors (white, gray, blond), and coarse hair is easier than fine hair. Although the treated hair probably won't fall out immediately, it should be gone within 10-14 days of your treatment. You can expect to reduce the hair in the area by 80-90%.
Why are multiple treatments necessary?
Hair grows in three different stages (growth, rest, and transition). At the time of your first treatment, some hair follicles will be growing, some will be resting, and some will be transitioning. This is important to note because the laser can only effectively treat hairs that are in the growing phase (also known as the anagen phase). To target every hair in the area, the treatment will need to be repeated 3-6 times, to catch every hair in its anagen phase.
Is there only one type of laser used in laser hair removal?
No, a variety of lasers are used. These different lasers help technicians target different colors of hair, types of hair, and skin sensitivities. For example, the GentleMaxPro is useful in a variety of areas because it's comfortable and can cover large areas quickly. The CoolGlide Yag works well in sensitive areas, while the DSL can effectively treat light brown, dark blond, and red hair.
– – – – –
So throw away your razors and cancel that waxing appointment! Laser hair removal is safe, effective, and can be performed in a variety of areas and on a variety of hair types. What more do you need to know? If you're interested in laser hair removal and you live in Springfield, Missouri, contact DermaHealth. We own four different lasers (the GentleMaxPro, the Prowave, the CoolGlide Yag, and the DSL), which help us target large areas of hair, hair in sensitive areas, and even lighter hair colors like red, dark blond, and light brown. To learn more, please give us a call at 417-447-7777 or click here to schedule a free consultation. We look forward to hearing from you!