Want to rejuvenate your skin without surgery? Dermal fillers are one of the most loved nonsurgical options for reducing the appearance of wrinkles or lines in your skin. Not only that, they will shape and contour your skin, adding youthful volume to your face. If you want to know more, start by learning how dermal fillers work. This just may be the best option for your skin.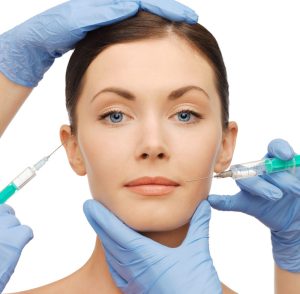 How Dermal Fillers Work
What are dermal fillers? What are they used to treat?
Dermal fillers are liquid or gel substances—sometimes natural, sometimes synthetic—injected into the skin to rejuvenate its appearance. As you age, your skin will lose volume and begin to sag and form wrinkles. These injections are designed to combat that process.
Dermal fillers can . . .
Fill in wrinkles, creases, and lines,
Contour the jawline,
Fill in hollows beneath the eyes,
Plump the cheeks to enhance their shape,
Reduce the appearance of facial scars, and
Plump thin or wrinkled lips.
Dermal fillers cannot . . .
Lift. If you're wanting to lift your face, eyes, or brows, you may need to go with a surgical option. Dermal fillers are not designed to achieve the same results as lifting surgeries.
How do dermal fillers work?
Only a licensed medical provider can administer dermal fillers. He or she will likely conduct a consultation with you to determine what areas you're addressing and what brand of filler is right for you. At the appointment itself, your provider will make a number of injections around your areas of concern. You will likely be able to resume your normal skin care routine immediately, but you may need to use ice packs, avoid alcohol and some activity for a day or two until it is set.
The liquid or gel from the injection will fill in the dermis—the layer of skin just beneath the top layer you see and touch. The fillers take up space under the skin where it is lacking, replacing some of the volume lost over the years. This provides new structure for your face, both enhancing and contouring its shape and reducing the appearance of wrinkles and lines. Think of dermal fillers as a substitute for collagen.
You should see results almost immediately with dermal fillers. Keep in mind that different fillers have different lifetimes—some only last a year or two, while others are designed to serve you for half a decade or more. Again, your provider will help you decide on a brand and type.
Are dermal fillers similar to Botox?
They are not. Many people hear the word "injection" and think "Botox," but Botox works differently from fillers. While dermal fillers plump and smooth the area beneath the skin, Botox is developed to freeze the muscle movement that forms wrinkles. Don't confuse the two!
____
You know all about how dermal fillers work. Does that mean you're ready to try it out for yourself? Whether you want to schedule an appointment today or simply need more information on dermal fillers, contact DermaHealth in southwest Missouri. We offer a wide variety brand of fillers developed with longevity in mind. Plus, we can help you address any other skin concerns you have. Give us a call at 417-447-7777 or contact us online to schedule a free consultation!