No matter how many times per day you wash your face, you can still have clogged pores. While dirt is certainly bad for your skin, pores often become clogged because the body's natural oils bind with dead skin cells to block the follicles on your face. This naturally occurring process affects everyone to some degree, but using certain beauty products can make acne problems even worse. Fortunately, there are plenty of ways to keep your pores clear and healthy. Keep reading to find out how to get rid of clogged pores in three easy steps.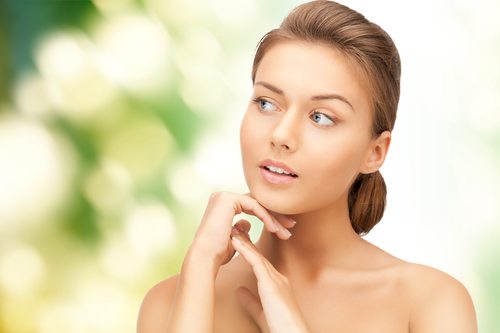 How to Get Rid of Clogged Pores
Do a Deep Cleanse
If you're wondering how to get rid of clogged pores, you need to start with a thorough daily cleansing. Begin by opening up your pores with a little steam power. Simply boil a pot of water, pour it into a bowl, and hold your face over it for up to 15 minutes. Then, rub a gentle cleanser onto your face with circular strokes (Clarisonic recommended). Rinse with water, and dab your face with a soft cloth to dry it. In addition, if you wear a lot of makeup, be sure to thoroughly remove it before cleansing.
Avoid Products That Clog Your Pores
Cleansing doesn't do your face any good if you keep putting products on it that obstruct your pores. Look for makeup and skin care products that are non-comedogenic, which means they were specifically formulated to not clog pores. In addition, talk to your skincare specialist about the products you currently use on your face. They may recommend that you swap out certain products to keep your pores clean. Evaluate the products you use on your hair as well, like shampoos, conditioners, hair sprays, and mousses. These items can be filled with pore-clogging ingredients.
Embrace Exfoliating Treatments
Chemical Exfoliation
Chemical exfoliation generally works better than manual exfoliation, but you can't go wrong with a combination of the two. Products containing salicylic acid are especially effective at removing the dead skin cells surrounding follicles, which can obstruct oil glands and cause acne. You can find salicylic acid in various lotions and creams, but be careful to follow package instructions; the chemical can be toxic when applied too often or when used in conjunction with certain products. You might also try a chemical peel. By removing the face's outermost layer of dead skin cells, chemical peels can leave your skin looking smoother and less wrinkled.
Manual Exfoliation
Manual options for exfoliation include microdermabrasion treatments and Clarisonic brushes. During microdermabrasion, a small instrument very gently "sands" the skin to even its outer layer. In addition to helping with clogged pores, this technique can be used to treat scars, sun damage, and even stretch marks. Clarisonic brushes are electronic devices with automated bristles designed for deep cleansing. They come in different sizes and are safe to use twice daily, though many people find that using the brush just once or twice a week makes their skin smoother and softer.
_____
Clogged pores are ultimately unavoidable, but a combination of cleansing, exfoliating, and avoiding comedogenic facial products can help you keep them under control.
If you live in southwest Missouri and are looking for faster, more effective methods to clear pores than what you can achieve at home, contact DermaHealth. We offer microdermabrasion and DermaSweep exfoliation methods, as well as chemical peels and laser therapy. Plus, we can help you address any other skin concerns you have. Give us a call at 417-447-7777 or contact us online to schedule a free consultation!