Exfoliation—removing dead cells from the skin's outermost layer—is a great way to keep your skin looking fresh and radiant. This comes in many methods, from gentle scrubs you can pick up at the drugstore to more intensive treatments you undergo at the doctor's office. When it comes to these intensive procedures, there are two main contenders: DermaSweep vs. microdermabrasion. If you're thinking about exfoliation, you may have heard these words before, but perhaps they're still unclear to you—especially what the difference between the two is. The two treatments work similarly for similar functions, but they have some key distinctions that set them apart . . .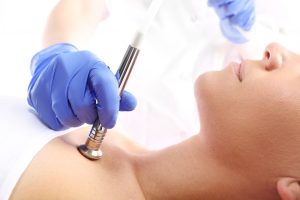 DermaSweep vs. Microdermabrasion
Where they're the same:
Both DermaSweep and microdermabrasion treat the following skin problems . . .
Pore problems, whether they're enlarged or clogged,
Aging spots, pregnancy masks, or other superficial discoloration,
Skin on the face or body that has been damaged by the sun,
Acne scarring (depending on severity) and pimple marks,
Stretch marks (depending on severity).
With either method, individuals experiencing these skin issues will have softer, smoother, more rejuvenated skin on your face or body.
Where they differ:
Method. How each treatment exfoliates is the first area in which the two differ—microdermabrasion uses tiny bits of crystals or diamonds to scrub away the skin's dead cells, but DermaSweep uses bristles instead.
Where and whom, exactly, they treat. Yes, both procedures can treat the same skin issues, but there are minor differences in what and whom they can treat. This is because of DermaSweep's bristles methods—the bristles make the process more variable and adjustable for different skin types and different areas. For example, patients with sensitive skin or Rosacea may want to go with DermaSweep, as they can opt for a gentler bristle. These gentle bristles also work great on the thin skin around the eyes.
How they feel. Again, because of DermaSweep's bristles, your dermatologist can adjust your treatment to be gentler. With microdermabrasion, patients might experience some discomfort during the treatment and some slight sensitivity afterwards.
Infusions. Microdermabrasion's objective is simply to remove those dead cells from the skin. DermaSweep, however, also includes infusion therapy. During the infusions, your skin is fed vitamin-rich serums that help nourish the skin after it has been exfoliated.
How long until you see results. Both methods are very effective, but DermaSweep has higher reports of immediate results. You will likely see improvements right after your first appointment, whereas it may take a day or two after microdermabrasion.
____
DermaSweep vs. microdermabrasion: which treatment won? No matter which you choose, you'll surely walk away with smooth, radiant-looking skin. If you're looking to get one of these services—or other skin treatment—and you live in or around southwest Missouri, contact DermaHealth Laser & Skin Care Clinic. At our facilities, we can discuss which aesthetic exfoliating treatment would be best for you and your skin, perform the treatment, and advise you on any other skin concerns. Simply give us a call at 417-447-7777 or schedule a free consultation online. We look forward to hearing from you!