We are thrilled to announce that Cheryl Briggs, owner of DermaHealth Laser & Skin Care Clinic, was recently featured in Radiant You, a wellness magazine for women. The article celebrates DermaHealth's 10 years of boosting clients' confidence and describes the clinic's innovations, new technologies, and incredible results.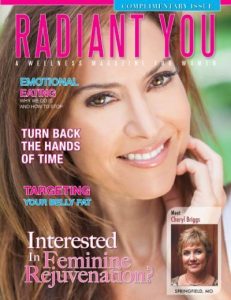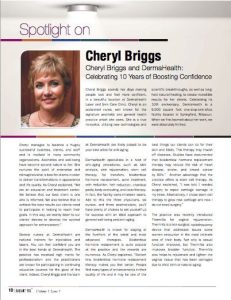 Cheryl Briggs Featured in Radiant You Magazine
"Cheryl Briggs spends her days making people look and feel more confident, in a beautiful location at DermaHealth Laser and Skin Care Clinic. Cheryl is an acclaimed nurse, well known for the signature aesthetic and general health practice which she owns. She is a true innovator, utilizing new technologies and scientific breakthroughs, as well as long-held natural healing, to create incredible results for her clients. Celebrating its 10th anniversary, DermaHealth is a 6,000 square foot one-stop-skin-shop facility located in Springfield, Missouri. When we first learned about her work, we were absolutely thrilled."
The article explores DermaHealth's new ThermiVa treatment, which provides vaginal rejuvenation through a radiofrequency device, and the many benefits of having nineteen lasers in-house. It also describes Cheryl's dedication to providing clients with advanced technology, comfortable treatments, and affordable options. Above all, as the writer illustrates, the DermaHealth team is committed to helping clients achieve their goals and regain lost confidence.
To read the rest of the article, please check out the full issue of Radiant You online. You can also view the article in PDF form.
Congratulations, Cheryl!
_____
DermaHealth is dedicated to providing fact-based education and advanced technology and research, so that our clients can make informed decisions regarding their aesthetic and skin care issues. Our medically trained team is ready to help you meet your goals, and our physicians will help you look as good as you feel. To schedule a complimentary consultation, please give us a call at 417-447-7777 or contact us online. We look forward to hearing from you!