Everyone sweats on sweltering summer days and during intense workouts. However, some people also sweat excessively at unpredictable times, for example, on a cool spring evening or while working in an air-conditioned office. These people may perspire profusely due to a condition known as hyperhidrosis, which causes excessive sweating. The issue can be embarrassing and uncomfortable, but luckily, an unexpected treatment is available: Botox. It may sound strange, but using Botox for hyperhidrosis is FDA approved and can effectively mitigate excessive sweating.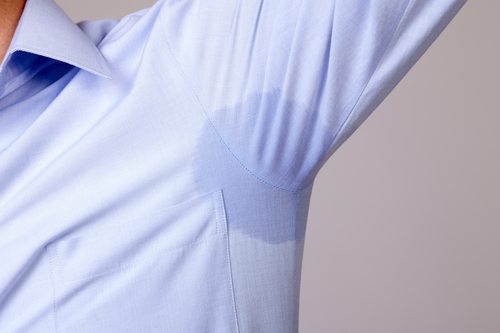 Botox for Hyperhidrosis
Because everyone sweats, sometimes sufferers of hyperhidrosis are unaware of it. If you seem to constantly be sweating in one or two areas of the body, such as the palms, feet, underarms, groin, or face, you may have hyperhidrosis. Instead of just sweating when hot or active, which is typical, you may sweat during everyday situations or when you're feeling stressed. There may be sweat marks on your shirts, and you might find yourself shopping for clothes with sweat stains in mind. If these symptoms ring a bell, you could be suffering from hyperhidrosis.
THE TREATMENT
The FDA approved Botox for treating axillary hyperhidrosis (excessive sweating of the underarms) over ten years ago in 2004, and it can also successfully treat excessive sweating of the hands, and feet. Botox has been shown to decrease underarm sweating by 82-87% and palm sweating by 80-90%. Plantar (foot) sweating provides less consistent results and will vary from patient to patient.
During the treatment, Botox will be injected into the problem areas, just below the skin's surface, using a very fine needle. It will temporally block the secretion of the chemical that activates the sweat glands, preventing perspiration. After the treatment, your skincare technician may request that you follow up sometime in the next one to two weeks, so that they can perform any necessary "touch-ups," treating areas that were missed the first time around.
For a comfortable and effective treatment, be sure to seek out an experienced practitioner. Although you shouldn't engage in intense exercise or visit a sauna for a day or so following your Botox treatment, you can resume other everyday activities.
THE RESULTS
Following a Botox treatment, you should notice results within 2-4 days, but it may take up to 2-3 weeks for the full effects to appear. The results can last up to a year, and usually after the medication wears off, the symptoms of hyperhidrosis are typically less severe. Repeat injections may be needed for long-term relief.
_____
Botox is safe, effective, and can provide long-lasting results for people who suffer from excessive sweating. If you're interested in receiving treatments of Botox for hyperhidrosis and you live in Springfield, Missouri, contact DermaHealth. Give us a call at 417-447-7777 or click here to schedule a free consultation. We look forward to hearing from you!